Mr Jennings really took the time to explain clearly my injury, the surgical and non-surgical options available. His post-op consultations were thorough and re-assuring.
I felt really confident that Mr Jennings was recommending treatment that would improve the problems I was experiencing. His aftercare and patience at explaining things is excellent
Our patients love our service and attention to safety and detail.
Why not request a call back now and let us help you get moving again.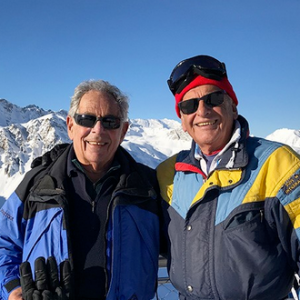 As this picture shows I am back on the ski slopes just over four months post-op to say nothing of being on the tennis and squash courts after just six weeks (granted these were mature gentlemen's doubles in both sports!) I am most eternally grateful to you and your team and cannot recommend you enough to any of my contemporaries of fellow knee sufferers!
Couldn't be easier or better. All stress free and straight forward. Simon Jennings was calm, assured and honest about my symptoms and potential recovery. Very much appreciated.

My teenage son was made to feel at ease and treated with honest assessments and treated like an adult – it made a difficult time much easier to bear. Thank You.

My new hip has been great. I am most grateful to you and your medical team. My hospital experience was all positive.
 wasn't totally concentrating at your Clinic yesterday and afterwards felt that I hadn't properly thanked you for the excellent job you did on my knee replacement and also for straightening my leg – which must have been quite a feat of engineering and surgical skill!
If you're somebody who's struggling at the moment with pain or being active, please do book in to see me.