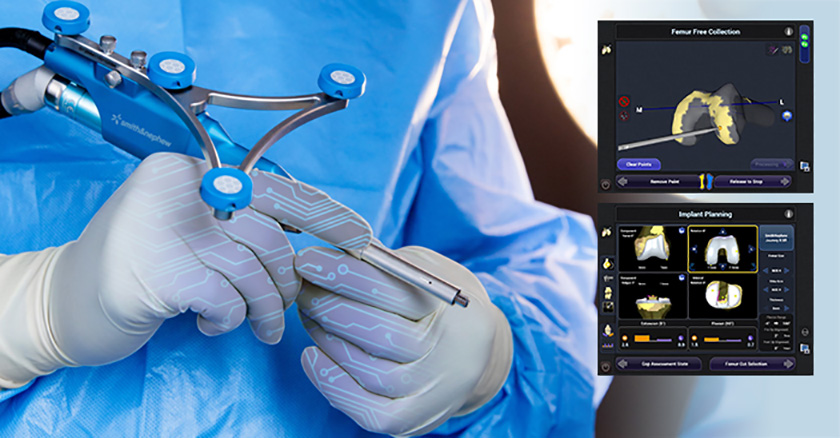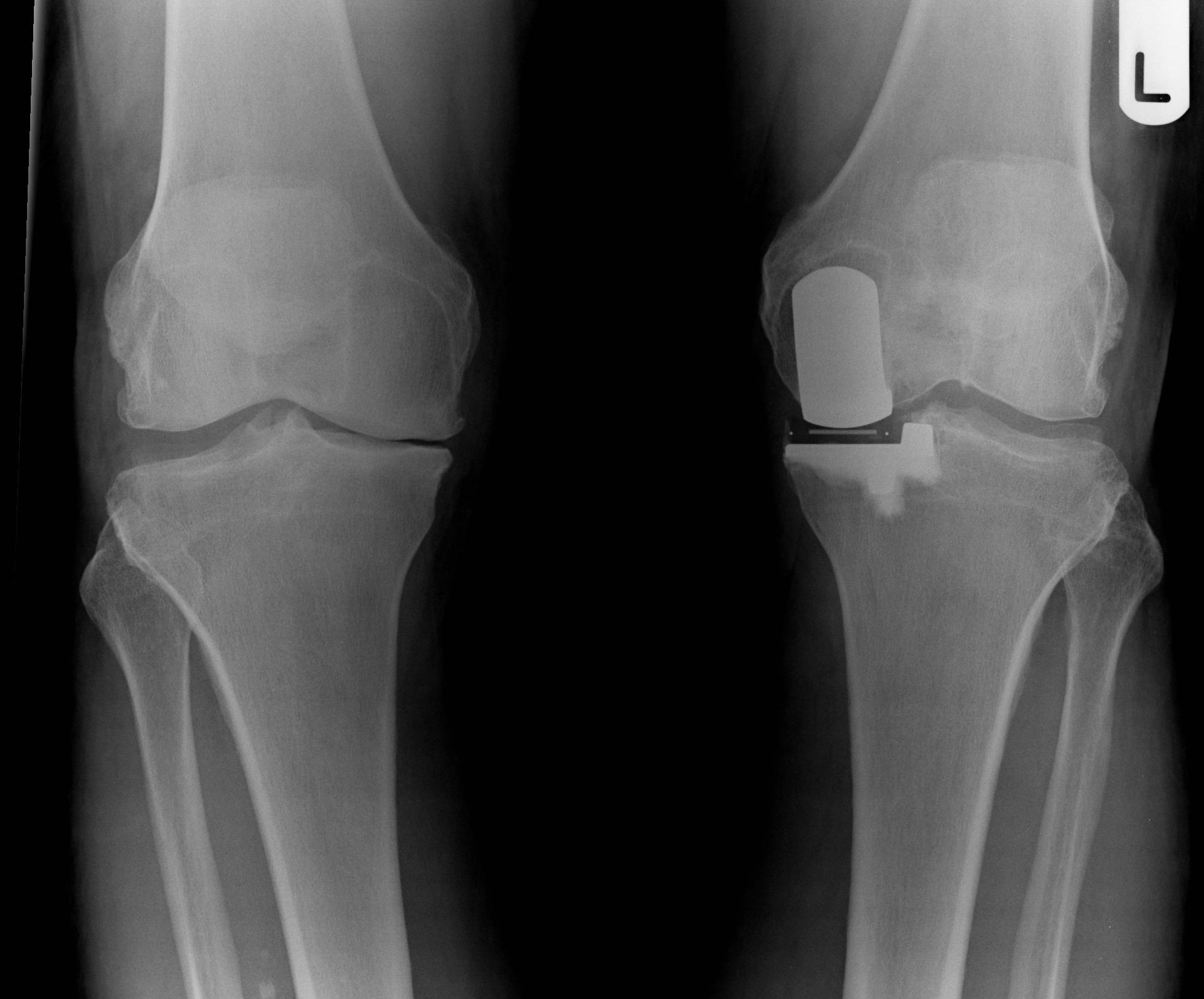 The right knee shows arthritis on the inside of the joint( the bones are almost touching each other where the cartilage is worn away). and the left shows where the inner part of the knee is replaced with a partial knee replacement. this restores the worn out inner knee to give back function and relieve pain
Robotic Partial Knee Replacement
Many patients who come to see me have osteoarthritis in just one part of the knee, known as unicompartmental osteoarthritis. This kind of knee arthritis often occurs in active people who have had a meniscal (cartilage) tear or meniscal removal surgery many years ago.
If you find yourself in this situation, then a partial knee replacement (aka unicompartmental replacement) may be a good option for you. Traditionally, replacing this part of the knee, was very tricky to get right. It was difficult and challenging to place the new components within the knee without disturbing the natural balance of the knee. Poorly aligned components can overload the rest of the remaining knee, leading discomfort and the onset of further arthritis.
Robotic knee surgery now means we can get an excellent outcome.
The robotic NAVIO system enables me to place the new knee components extremely accurately. Because balance within a partly placed knee is vital in order for it to feel natural afterwards, using the robot means I can correct in real time, any soft tissue imbalances around the knee. And the good news is, it's an operation which is quick to recover from.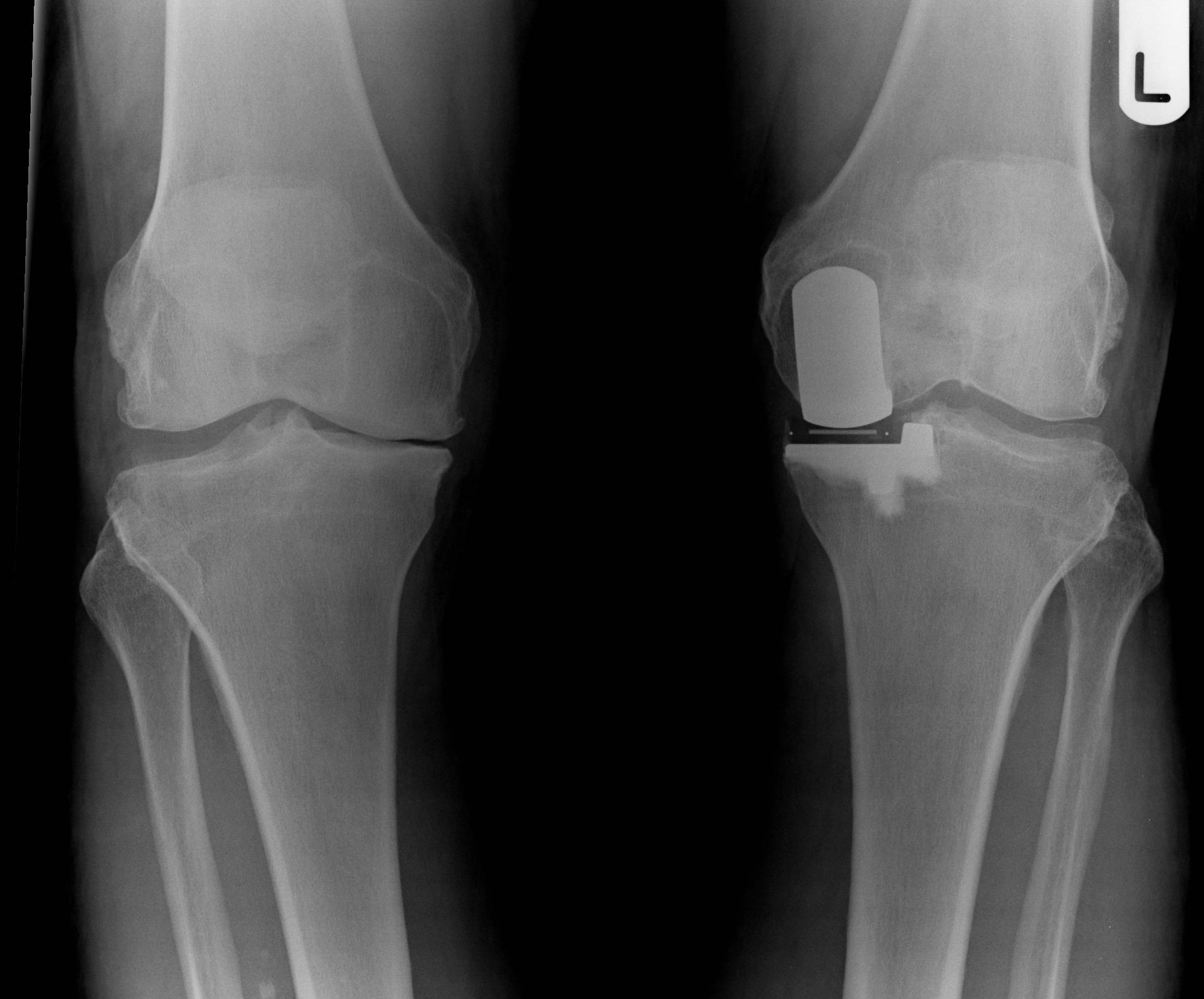 The right knee shows arthritis on the inside of the joint( the bones are almost touching each other where the cartilage is worn away). and the left shows where the inner part of the knee is replaced with a partial knee replacement. this restores the worn out inner knee to give back function and relieve pain
Why is robotic partial knee replacement a good option?
Partial knee replacement preserves most of the structure of your knee that is not worn or damaged and only replaces the worn area. I can correct changed alignment that is overloading the knee. The surgery is smaller, and the recovery is noticeably faster and less uncomfortable that total knee replacement. The risk of complications is lower than in full knee replacement. Robotics has been proven to be much more accurate than the older mechanical (jig based) techniques with better outcomes. If your knee is not too damaged this is an excellent way to get back your knee function.
How long will partial knee replacement last?
When carried out with robotic techniques, we can expect that a partial knee replacement will last at least 15 years. Should it wear out eventually, then revising it to a total knee replacement is no harder than if we were putting in a total knee replacement for the very first time.
If you're struggling with knee pain, being active, and have maybe undergone a keyhole knee surgery before, please do book in to see me for consultation.