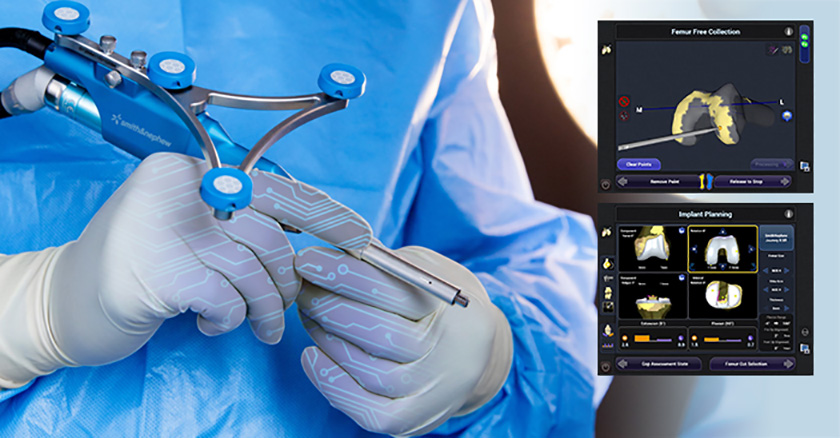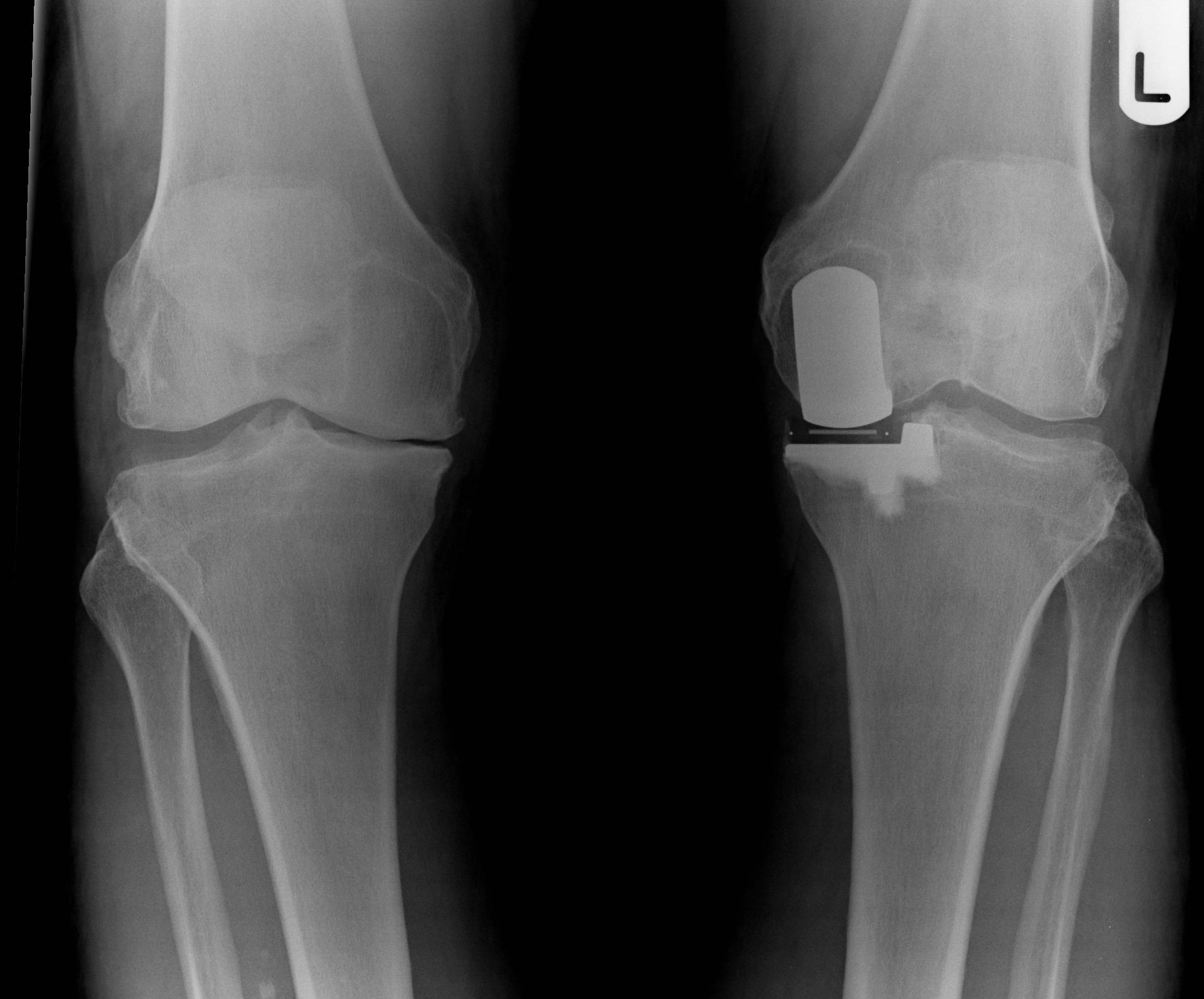 The right knee shows arthritis on the inside of the joint( the bones are almost touching each other where the cartilage is worn away). and the left shows where the inner part of the knee is replaced with a partial knee replacement. this restores the worn out inner knee to give back function and relieve pain
Robotic Partial Knee Replacement
Many patients who come to see me have osteoarthritis in just one part of the knee, known as unicompartmental osteoarthritis. This kind of knee arthritis often occurs in active people who have had a meniscal (cartilage) tear or meniscal removal surgery many years ago.
If you find yourself in this situation, then a partial knee replacement (aka unicompartmental replacement) may be a good option for you. Traditionally, replacing this part of the knee, was very tricky to get right. It was difficult and challenging to place the new components within the knee without disturbing the natural balance of the knee. Poorly aligned components can overload the rest of the remaining knee, leading discomfort and the onset of further arthritis.
Robotic knee surgery now means we can get an excellent outcome.
The robotic NAVIO system enables me to place the new knee components extremely accurately. Because balance within a partly placed knee is vital in order for it to feel natural afterwards, using the robot means I can correct in real time, any soft tissue imbalances around the knee. And the good news is, it's an operation which is quick to recover from.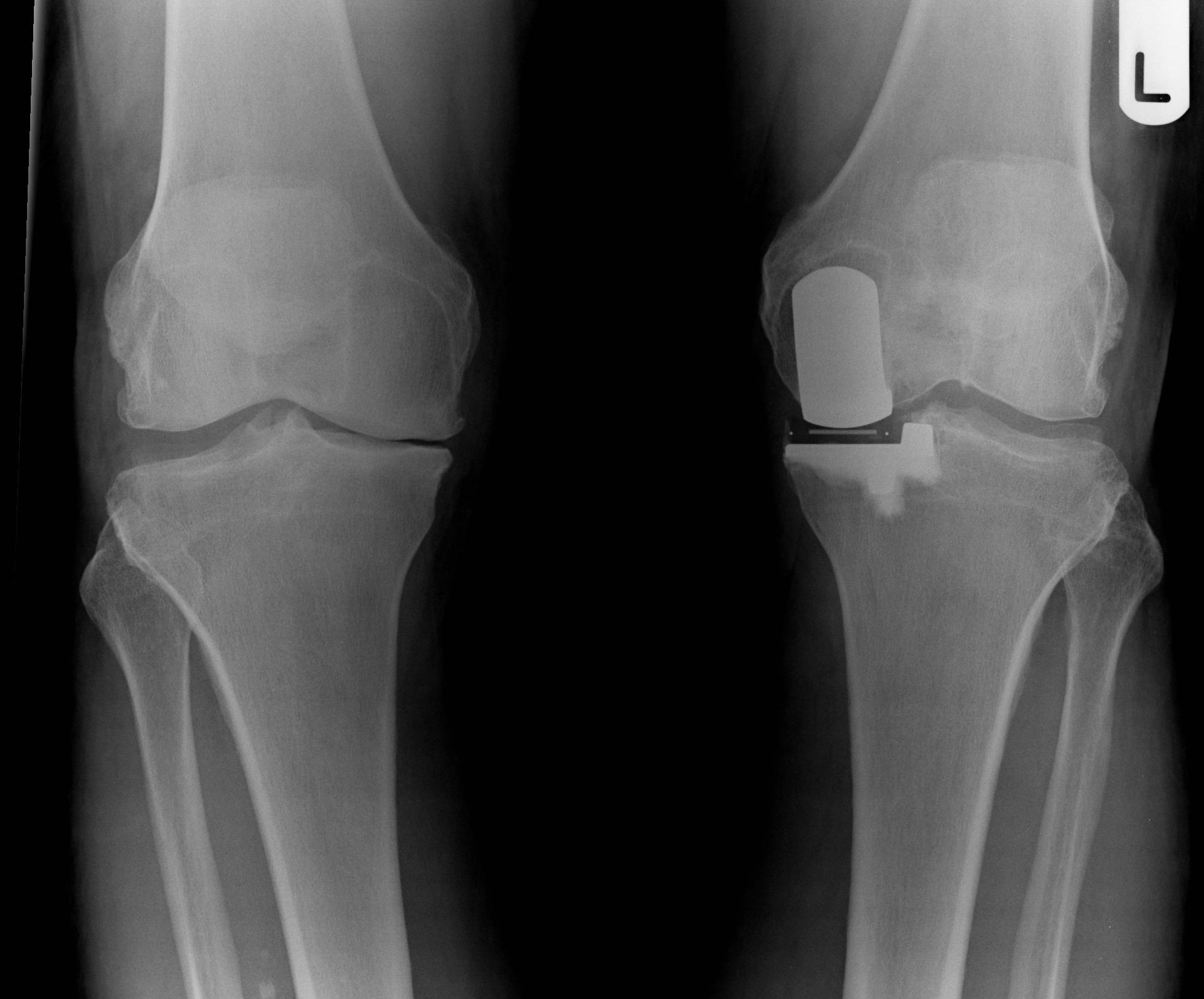 The right knee shows arthritis on the inside of the joint( the bones are almost touching each other where the cartilage is worn away). and the left shows where the inner part of the knee is replaced with a partial knee replacement. this restores the worn out inner knee to give back function and relieve pain
Why is robotic partial knee replacement a good option?
Partial knee replacement preserves most of the structure of your knee that is not worn or damaged and only replaces the worn area. I can correct changed alignment that is overloading the knee. The surgery is smaller, and the recovery is noticeably faster and less uncomfortable that total knee replacement. The risk of complications is lower than in full knee replacement. Robotics has been proven to be much more accurate than the older mechanical (jig based) techniques with better outcomes. If your knee is not too damaged this is an excellent way to get back your knee function.
How long will partial knee replacement last?
When carried out with robotic techniques, we can expect that a partial knee replacement will last at least 15 years. Should it wear out eventually, then revising it to a total knee replacement is no harder than if we were putting in a total knee replacement for the very first time.
If you're struggling with knee pain, being active, and have maybe undergone a keyhole knee surgery before, please do book in to see me for consultation.
Please call Angela my secretary on 02074869323 
No.  
We are happy to discuss options for you to self–fund. This will include fixed fee for different treatment options as required.  
If you are paying for your own treatment, then a referral is not necessary. The majority of insurers will require a GP referral before authorising a consultation, investigations or any treatment. Many of my referrals come from physiotherapists and some insurers will now accept that mode of referral. Please contact me if you are unsure! 
I will endeavor to see you as soon as possible and I will allow ample time to discuss your symptoms and organise investigations as needed. These can often be carried out on the same day. 
I appreciate that face to face appointments at this time are more challenging and I am happy and experienced in carrying out video consultations if preferred. This can reduce travel and exposure in public if you are shielding or concerned. 
I appreciate that face to face appointments at this time are more challenging and I am happy and experienced in carrying out these initial consultations virtually if that is your preferred option. 
I work in several hospital and clinic sites. There are new higher standards of hygiene and infection control in all these facilities.  
To minimise the risk of infection, it will be necessary to follow proven guidelines: on arrival for face-to-face appointments or surgery you will be questioned about symptoms of Covid and recent exposure to people who are ill. You will have a temperature check and will be required to wear a mask. Sensible hand sanitisation and keeping your distance in the clinic or hospital is required.  
For surgical treatments more formal Covid testing is carried out in the preceding days and it is sensible to self-isolate to avoid exposure to infection in the pre-surgery period. Surgery is carried out through a "Green pathway" where all staff and patients are screened, and movement is controlled to minimise risk of infection. You will receive all information specific to your journey to help you understand these procedures. 
I am recognised by all the major insurance companies. There are a large number of policies that cover differing aspects of care and I would recommend you ensure that you understand what is and is not covered under your particular policy. 
I will inform you of all fees in advance of treatment. All my fees will be transparent to you at all stages and Angela will be happy to discuss any questions you may have.  
Whether or not you have private medical insurance my contract is with you and you are ultimately responsible for any fees incurred for consultations, investigations and surgery.   
I will schedule a time to talk to you about your scan results as soon as possible after your initial consultation. This gives you the reassurance of knowing when I will contact you and allows you to ask any questions that you have at that time.  
If there is further discussion of treatment required, I will arrange a face to face or virtual follow up appointment to go through the details of your results and options to formulate your best course for recovery. 
I increasingly see patients for this reason. I request that you notify me if you are seeking a second opinion so that an appropriate time and access to imaging can be arranged.